Future concerts
St John Passion by J. S. Bach
Sunday 29 May 2022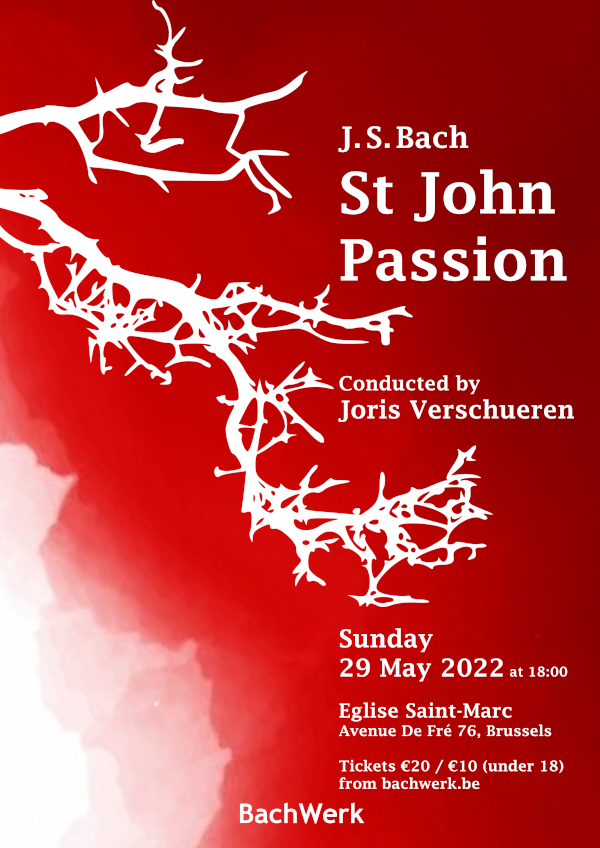 BachWerk choir and orchestra
Conducted by Joris Verschueren
Leander Van Gijsegem (Evangelist)
Donata Meyer-Kranixfeld (Soprano)
Gilles Thomas (Alto)
Ludwig Van Gijsegem (Tenor)
Matthew Zadow (Bass)
The Easter story according to St John is an incredible work of drama and emotion. First performed on Good Friday 1724 and then lost for the best part of a century, it is now rightly recognised as one of Bach's great works for choir, soloists and orchestra.
St John Passion (Bach)
Sunday 29 May 2022, 18:00
Eglise Saint-Marc
Avenue De Fré 76, Brussels (Uccle)
Tickets €20 / €10 (under 18)
To buy tickets for this concert: Fill in the form below and complete a bank transfer for the total amount.
Join our Mailing list

Join our mailing list to be kept informed about BachWerk concerts and events.
Past concerts
To find out about BachWerk's previous concerts, click here