Future concerts
Bernstein Latin Choruses
Sunday 22 October 2023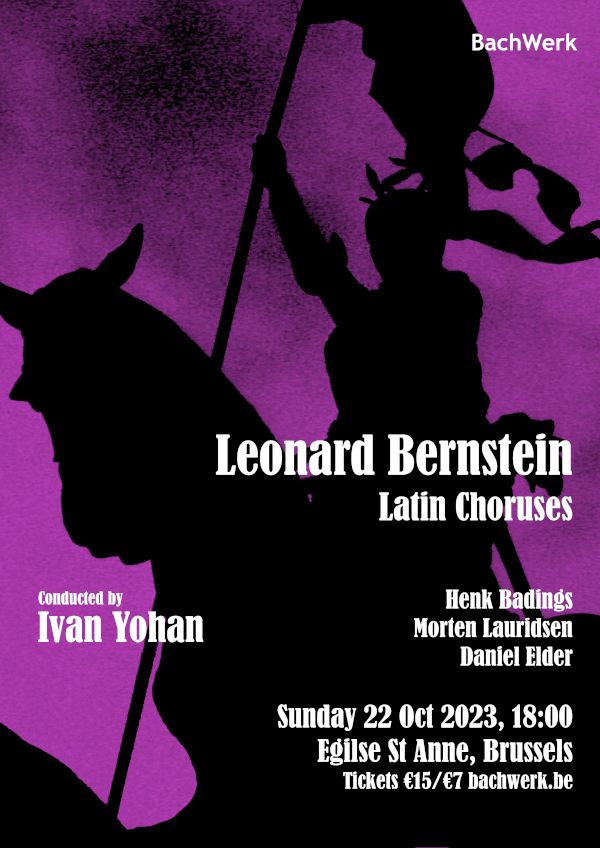 BachWerk choir
Conducted by Ivan Yohan
Boris Kondov (Countertenor)
An adaptation of the story of the trial and execution of Joan of Arc was the inspiration for Leonard Bernstein's Latin Choruses. The music harks back in tone to Medieval roots in this evocative work for choir and solo countertenor. Conductor, Ivan Yohan, has paired the work with an extraordinary piece for choir and timpani by contemporary American composer, Daniel Elder. Three Themes of Life and Love concludes with the promise that the "heart's question is finally answered". Also on the programme: Music from Ralph Vaughan Williams and Indo-Dutch composer, Henk Badings.
Bernstein Latin Choruses
Sunday 22 October 2023, 18:00
Eglise St Anne, Auderghem
Chaussée de Tervueren 91, Brussels
Tickets €15 / €7 (under 18)
To buy tickets for this concert: Fill in the form below and complete a bank transfer (account: BE07 3770 4470 0566) for the total amount. If you have any problems, email us.
Join our Mailing list

Join our mailing list to be kept informed about BachWerk concerts and events.
Past concerts
To find out about BachWerk's previous concerts, click here