Future concerts
Concert: Music from the heart
Saturday 13 October 2018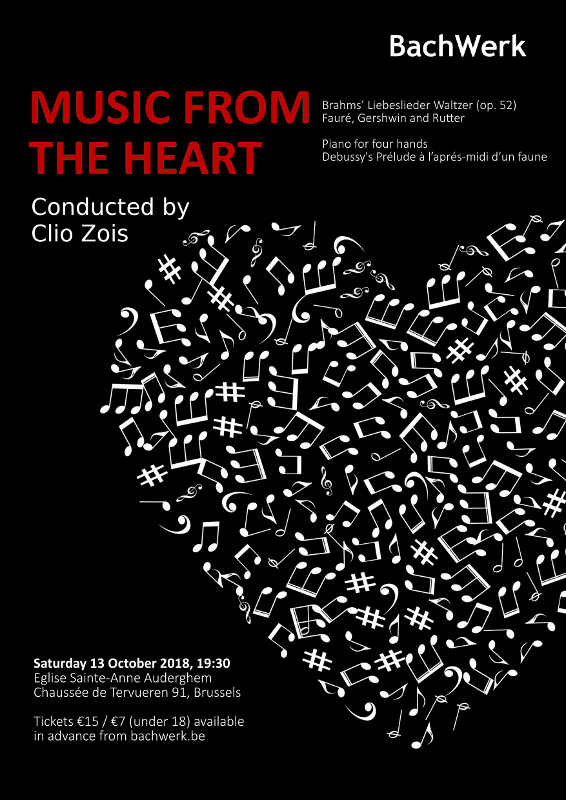 BachWerk choir
Pianists: Nina Sené & Erwan Garnier
Conducted by Clio Zois
BachWerk takes a musical journey starting with German early romanticism via French impressionism and Greek tradition to English contemporary and jazz.
The choir will perform Brahms' Liebeslieder (op. 52), Fauré and Hatzidakis.
And the concert will also include piano for four hands with Schumann's wonderful Bilder Aus Osten and Prélude à l'aprés-midi d'un faune by Debussy.
Music from the heart
Saturday 13 October 2018, 19:30
Eglise Sainte-Anne Auderghem
Chaussée de Tervueren 91, Brussels
Tickets €15 / €7 (under 18)
To buy tickets for this concert: Fill in the form below and complete a bank transfer (account: BE07 3770 4470 0566) for the total amount. If you have any problems, email: info@bachwerk.be

Bach's Christmas Oratorio
Saturday 8 December 2018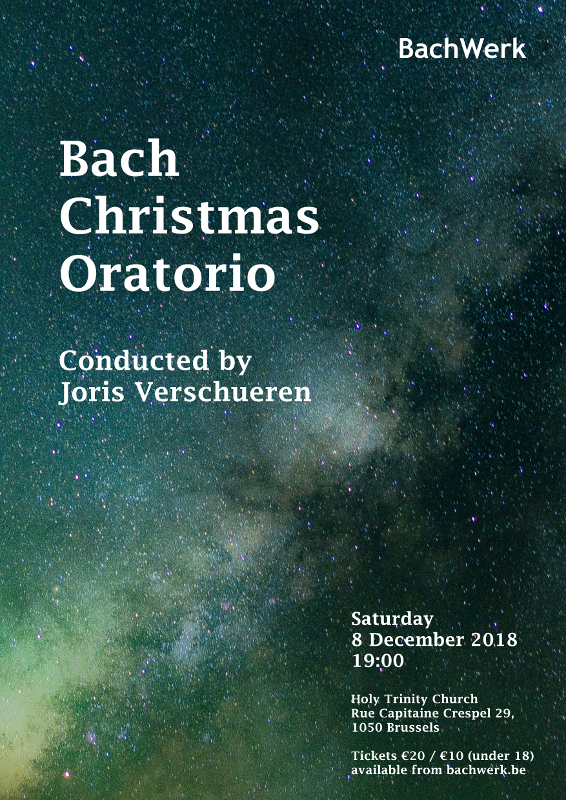 BachWerk choir and orchestra
Conducted by Joris Verschueren
Gilles Thomas (Countertenor)
Florian Fuckner (Tenor)
BachWerk performs the wonderful seasonal highlight, the Christmas Oratorio by J. S. Bach. Following last year's emphasis on the first three cantatas, this year's concert pays particular attention to the latter cantatas.
Bach's Christmas Oratorio
Saturday 8 December 2018, 19:00
Holy Trinity Church
Rue Capitaine Crespel 29,
1050 Brussels
Tickets €20 / €10 (under 18)
Join our Mailing list

Join our mailing list to be kept informed about BachWerk concerts and events.
Past concerts
To find out about BachWerk's previous concerts, click here