Future concerts
Bach's Christmas Oratorio
Saturday 9 December 2017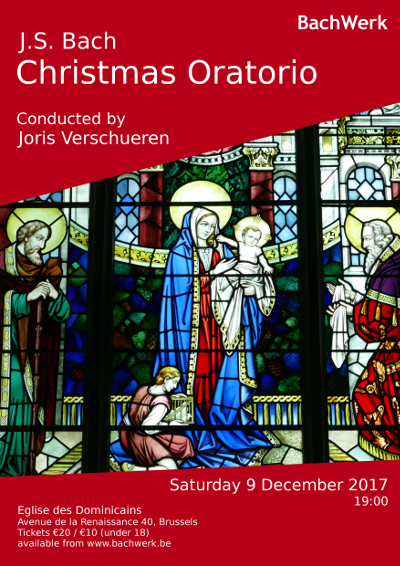 BachWerk choir and orchestra
Conducted by Joris Verschueren
Fiona Hick (Soprano)
Gilles Thomas (Countertenor)
Joris Bosman (Tenor)
Matthew Zadow (Bass)
The Christmas Oratorio tells the story through incredibly expressive and beautiful music. One of Bach's masterpieces, it was first performed in 1734 in Leipzig.
Four soloists, full orchestra and choir performing in the stunning surroundings of Eglise des Dominicains under the baton of Joris Verschueren.
Bach's Christmas Oratorio (Parts 1, 2, 3 and 6)
Saturday 9 December 2017, 19:00
Eglise des Dominicains
Avenue de la Renaissance 40
1000 Brussels
Tickets €20 / €10 (under 18)
Join our mailing list and we will let you know when tickets go on sale.
Mailing list

Join our mailing list to be kept informed about BachWerk concerts and events.
Bach's St Matthew's Passion in pocket form
Saturday 24 March 2018

'The Party' ensemble
BachWerk choir
Conducted by Bart Rodyns
Hendrickje Van Kerckhove (Soprano)
Inez Carsauw (Mezzo-soprano)
Around 1860 an ensemble of Belgian musicians founded 'The Party' to perform great works of classical music in a small format. In recent years, Hendrickje van Kerckhove, Bart Rodyns, Eliot Lawson and Lode Leire have brought 'The Party' back to life. For this concert, Bach-specialist, Bart Rodyns, has arranged arias and chorals from Bach's Mattheus Passion for a small ensemble of players and BachWerk singers.
Bach's St Matthew's Passion in pocket form
Saturday 24 March 2018, 20:30
Castelhof Chapel
Molenstraat 102,
1700 Dilbeek
Tickets €16-€18 / €15 (under 18). Click here to buy now.
Past concerts
To find out about BachWerk's previous concerts, click here