Future concerts
Handel's Messiah
Saturday 30 March 2019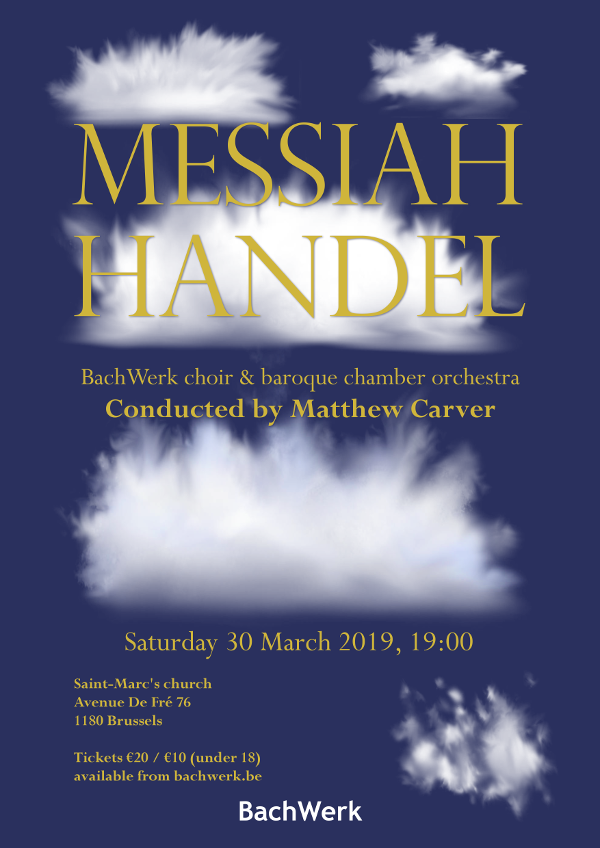 BachWerk choir and baroque chamber orchestra
Conducted by Matthew Carver
Fiona Hick (Soprano)
Katarina Van Droogenbroeck (Alto)
Florian Fuckner (Tenor)
Páidí Ó Dubháin (Bass)
Composed in 1741, Messiah is Handel's best known and loved piece of choral music (particularly the Hallelujah chorus). An example of English Oratorio, and still with plenty of drama, it is viewed as contemplative for Handel. Messiah narrates first the prophecies, then the story of the birth of Christ, and finally the Passion of Christ.
Handel's Messiah
Saturday 30 March 2019, 19:00
Eglise Saint-Marc
Avenue De Fré 76, Brussels (Uccle)
Tickets €20 / €10 (under 18)
To buy tickets for this concert: Fill in the form below and complete a bank transfer for the total amount. If you have any problems, email: info@bachwerk.be
Join our Mailing list

Join our mailing list to be kept informed about BachWerk concerts and events.
Past concerts
To find out about BachWerk's previous concerts, click here