Future concerts
A German Requiem (Brahms)
Saturday 16 November 2019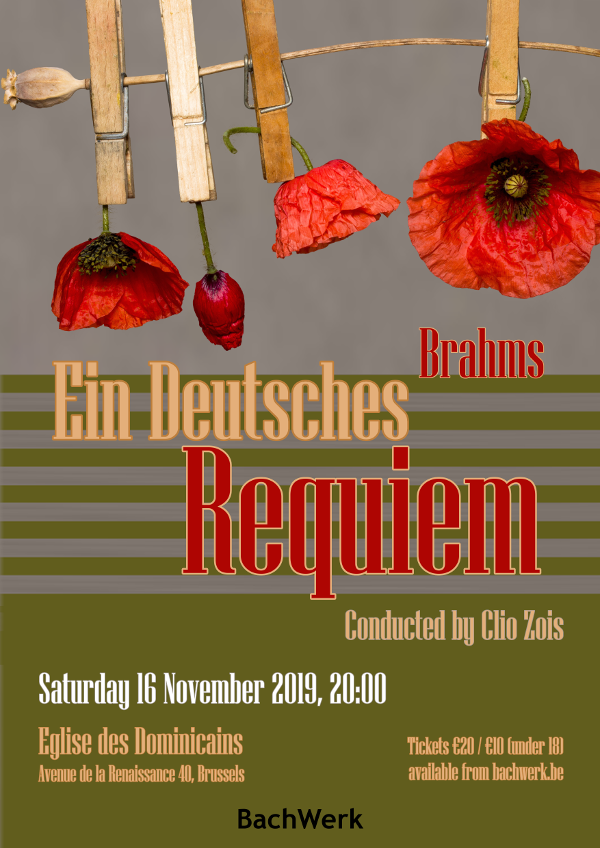 BachWerk choir and ensemble
Conducted by Clio Zois
Fiona Hick (Soprano)
Matthew Zadow (Baritone)
In a letter to Brahms, Clara Schumann described the German Requiem as a work where "profound solemnity combined all the magic of poetry produc[ing] a truly wonderful effect; it is both stirring and soothing." We will be performing Joachim Linckelmann's arrangement for choir and chamber ensemble, which brings out all the voices in a new interpretation of this masterwork.
A German Requiem (Brahms)
Saturday 16 November 2019, 20:00
Eglise des Dominicains
Avenue de la Renaissance 40, Brussels
Tickets €20 / €10 (under 18)
To buy tickets for this concert: Fill in the form below and complete a bank transfer (account: BE07 3770 4470 0566) for the total amount.
Join our Mailing list

Join our mailing list to be kept informed about BachWerk concerts and events.
Past concerts
To find out about BachWerk's previous concerts, click here